GET TO KNOW ME
HEY THERE, I'M MELANIE
I left the corporate world long ago for the freedom of being an entrepreneur.
So, instead of a stuffy bio, here are 5 fund facts I bet you didn't know about me.
INDIA + NYC
1. I have more than just one home
Don't worry, I'm not going to tell you about my fancy second summer home…
I split my time between NYC and India. I know what you're thinking - why India? Well, my fiance was born and grew up there. And, I'll go ahead and answer your next question, no he's not Indian, he's a tall white guy with family roots on Long Island. So, after we met in a bar in NYC, I ended up spending a ton of time in Goa with him.
We have a home base in North Goa (a small state on the west coast of India). And when I am not there I spend most of my time working in Jaipur. I like to think I get the best of both worlds this way - the glitz and glam of NYC fashion, and BTS factory life experience in India.
SAYING GOOD BYE TO FAST FASHION
2. here's the moment i knew i needed to leave my job
I was dangling out the third-story window of a factory gasping for fresh air in a village that was so small it wasn't even on Google Maps.
After less than 5 minutes, the fumes inside that factory burned my lungs and made my eyes not just water but poor tears.
That moment was the first time I ever thought WTF am I doing? Is fashion really worth, this?
I'M OBSESSED
3. i plan my vacations around textiles
Where ever I go, I always like to get a textile day trip in.
When my fiance and I went to Mallorca, Spain we took a trip into the mountains to visit a third-generation ikat weaving mill (we also just happened to stop at a restaurant that had the best chocolate fondant I have ever had in my entire life).
When we went to Ireland we visited one of the only operational wool mills in the country (FYI, the industry is dead and has mostly moved to Australia and China).
I seriously love textiles. And, learning about them. That is why my work doesn't really feel like work, I would be doing this stuff anyway in my free time.
I'VE TRIED IT ALL
4. I can do almost any factory job
From winding sewing bobbins, to screen printing, to hand sanding jeans, I have tried just about every job in the supply chain.
And, I think that everyone that works in the fashion industry should too.
IMO, what the fashion industry is lacking most is empathy. I think that if more people experienced what a day in a sewing line was really like, they would be more fired up to create industry change.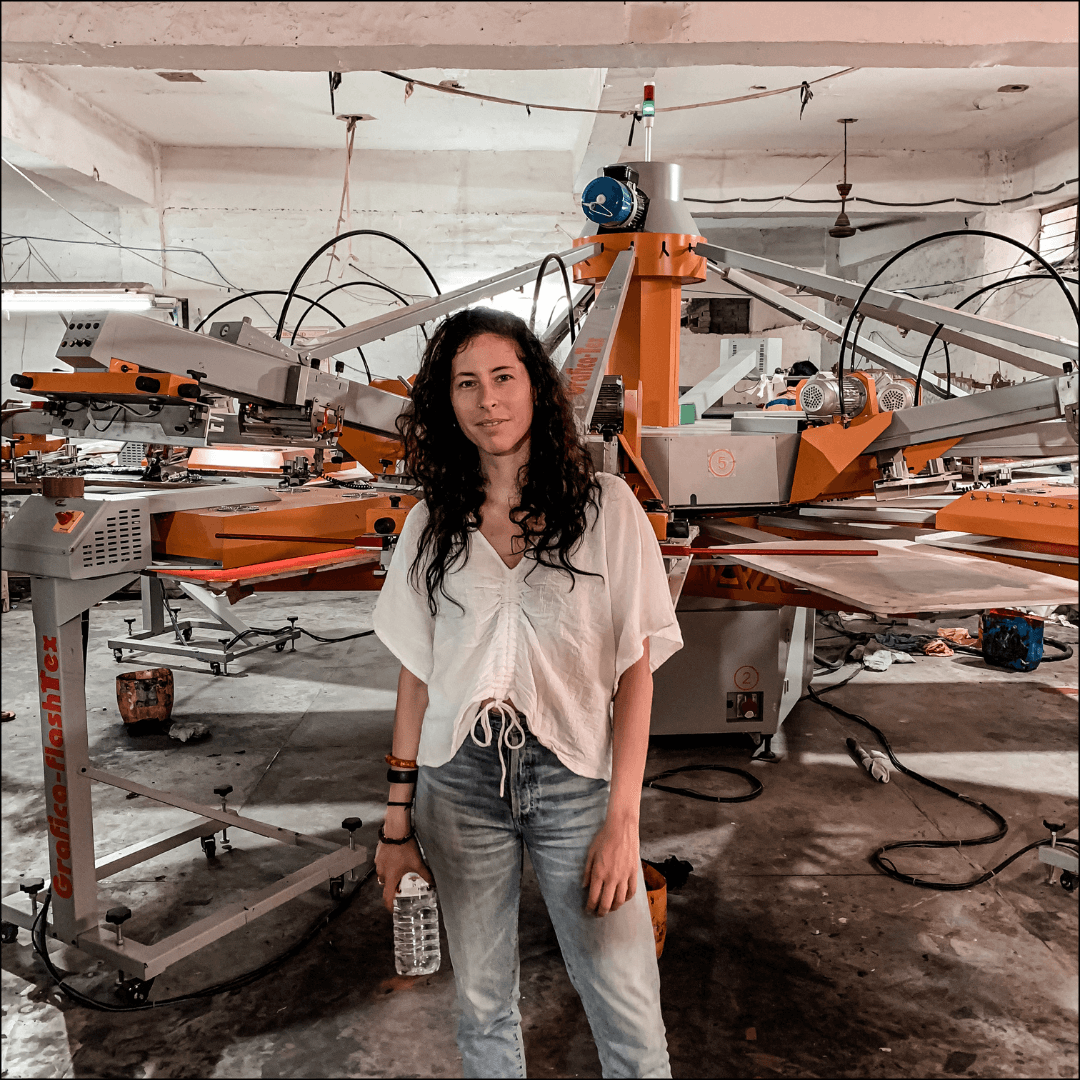 (HUMBLE BRAG HERE)...
5. MY BIGGEST CAREER ACCOMPLISHMENT
Was speaking at SXSW.
I used to have a fear of public speaking, and I never thought people would be so interested in me and what I do that I could fill a room at one of the worlds most famous forums.
But I did!
I'm not special or extraordinary, I just work hard and speak honestly - and I think my small successes are a good reminder that you can do amazing things too.